The Reviewer
Weight: 153 lbs | Height: 5' 11"
Foot strike: Mid
Current Shoe Rotation:
Inov-8 f-lite 230, Inov-8 Roclite 285, Mizuno Wave Ronin 2

The Shoe
Now that Mizuno has officially discontinued the Wave Ronin 2 in order to make way for its successor, I suppose it's time for me to get around to writing a review of that yellow and blue racing flat. They're currently on sale at RunningWarehouse, after all. So, some of you may be interested in reading this personal impression of the Ronin 2 before acquiring a pair at such an outstanding price.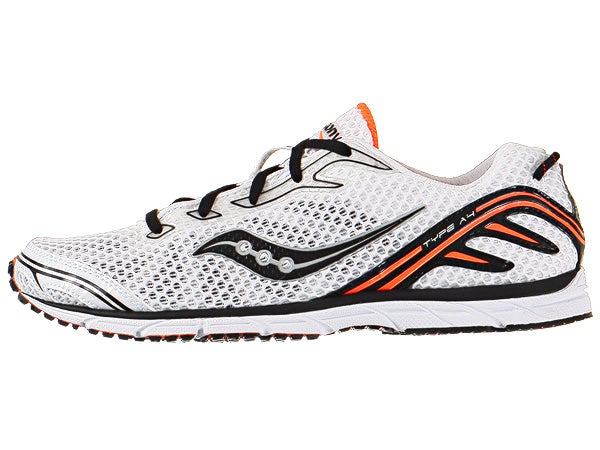 The Ronin 2 is a good looking shoe. It's obnoxiously yellow with dark blue trim and glittery, flimsy laces. Categorized as a racing flat, the Ronin's lower-than-typical profile and relatively light weight makes it feel quite fast.
However, if you compare this to a true flat, like the Saucony A4 (at right with a 4mm heel differential) you'll note that the heel is, at 9mm higher than the forefoot (18mm to 9mm), particularly pronounced on the Ronin 2, making it more of a hybrid of a lightweight trainer and a racing flat.
Another unique aspect of the Ronin 2's construction is in the tread. The knobby portion of the forefoot outsole offers exceptional traction over varying terrain. This makes the Ronin a very versatile shoe for both on- and off-road running.

The Reason
Being that I do not live within walking distance to a trail, I must frequently make due with running on the road. I usually need more cushioning for road running. So, I looked to the racing flats for something low in profile, but not so low that I could just as well use my Inov-8 f-lite 230s. Yes, I needed something that would make a long run on the roads bearable.

I'd had significant experience with Mizunos in the past, with the heavily stabilized Nirvana serving as my primary trainer when I first started. I moved to the lighter-weight Elixir after that. And, with each Mizuno shoe, I became convinced that their shape fit my foot better than the other brands of road shoe. Of course, I tried on numerous brands. But, the winning distinction for the Mizunos is the slightly wider-than-average toe box, I think.
So, I gravitated to the Ronin when I was looking at a flat for longer road runs. Sure, I considered flatter flats. But, they were so much narrower in the forefoot than the Ronin. And, that design feature, the width, is what really sold me on this shoe.

The Running
At the time of this post, I've put more than 140 miles on my Ronin 2s. And, I've determined that the Ronin 2 feels exceptionally smooth and responsive over pavement. It is a neutral shoe that simply lets you run, whatever that might mean. The heel cup holds your foot securely in place while your toes and forefoot feel free to splay out as needed.
After spending so much time running trails in the Roclite and f-lite (pavement for shorter runs), I definitely felt the heel of the Ronin when I first started running in it. But, I do not believe that this heel is especially detrimental to a midfoot strike. You get used to it, I'd say.
The Ronin 2 has ample cushioning for long runs on the road, in my opinion. I've used this shoe on pavement with just a couple of forays over gravel. My maximum distance on pavement thus far with the Ronin has been a little over 10 miles. And, I wouldn't hesitate to recommend this for a marathon, assuming you feel strong enough to use it for that distance. If I were running a marathon on pavement next week, this is the shoe I'd use.

Summary
The Ronin 2 is a great shoe and an ideal lightweight trainer for long road runs. Its relatively wide forefoot and toe box, along with a flexible upper, make it fantastically comfortable. The outsole provides excellent traction on wet pavement or off-road terrains. And, it's lightweight construction allows for speed where you didn't think you'd have it.

My primary qualm with the shoe is that the heel-to-forefoot differential is higher than what I'd like. If Mizuno would shave off 3 or 4 mm, I'd feel much better about settling in with this shoe. But, that's not the case, it seems. Looking at the specs for the Ronin 3 on Runningwarehouse.com, we see that the differential is 9mm again.

Thus, I am refraining from stocking up on Ronins while they're on sale. The bevy of minimal shoes with a lower heel due out this Spring will most likely offer another option for my long road runs. (See Runblogger's interesting review of the Ronin in comparison with it flatter cousin, the Universe)
But, if the heel on the Ronin 2 isn't an issue for you, try it out before they're gone! It really is a great shoe!

Happy running!